Discount Full Service Home Selling Programs
Please enter your zip code so we can show you your local information and pricing.
LISTING TERM
| | |
| --- | --- |
| Brokerage | More Info |
SUPPORT
| | |
| --- | --- |
| Online Support | More Info |
NEW FRONTIER TITLE
Integrated Title & Closing Services
More Info
SEAMLESS CLOSING SERVICES THROUGH NEW FRONTIER TITLE
New Frontier Title is GetMoreOffers.com's preferred title insurance company. Because ADDvantage closes hundreds of deals a year through New Frontier, the communication process is:
Exceptionally refined and prompt
Secure (we use a shared closed software system)
Brings a level of efficiency and reliability that can not be guaranteed when working with another outside title company.
In Florida, the seller customarily controls and pays for title insurance premium except in Collier, Broward, Sarasota and Miami-Dade Counties, where the buyer may be responsible for the payment of the title insurance premium.
Before closing, the seller is usually required to provide evidence of clear title to the new buyer and lender. A title search and the resulting title insurance assures buyers and lenders that there are no liens on the property and identifies the balances, if any, of existing mortgages.
Click here to use NFT's Estimated Closing Costs Calculator.
Note: Once you are a GetMoreoffers client, for your convenience, this calculator will be accessible from your dashboard and will autofill the data of your listing.
ADVANTAGES OF USING NEW FRONTIER TITLE FOR YOUR CLOSING
It is not a requirement to use New Frontier Title. However, here are some things to consider:
Often, the buyer's agent may suggest allowing them to choose the title company which may put you at a disadvantage with information flow as the title company may have a disposition favorable to the buyer.


By controlling title, the seller also can often control the buyer's escrow utilizing New Frontier Title's escrow account to hold these buyer escrow funds. To achieve this, have the buyer's agent enter the following info on page 1 of the Purchase and Sales Agreement (contract) enter (required field on the contract):

New Frontier Title, LLC
106 N County Road 470
Lake Panasoffkee, Florida 33538
Office-877-544-6447 / Fax-877-480-8886
email: closings [at] newfrontiertitle.com



New Frontier believes closings should be convenient. If it's not convenient to close in one of our local offices, NFT's network of mobile closers means you can close the transaction when and where it's best for you. They also offer mail-away closing services.


By choosing New Frontier Title, you are helping our company grow by supporting our affiliated company. We thank you in advance for your consideration.
To read more about New Frontier Title, visit www.newfrontiertitle.com/about-us/
*New Frontier Title services only offered in Florida. New York closings must go through an attorney. Our New York broker can provide options for attorneys upon request.
Live Support
Dedicated MLS Administrator
More Info

Live Support

With the Silver, Gold and Platinum plans, you get our renowned Live Customer Support 7 days a week and our dedicated MLS listing administrators will be available for assistance with questions, changes & updates or any other concerns, from Monday through Friday.
| | |
| --- | --- |
| | Instant Leads™ |
More Info
Instant Leads
Our Instant Leads feature is included in the Silver, Gold and Platinum programs. For sellers with the MLS Only or Rental MLS plan, agents and buyers who call or email will be given your contact info and directed to call you but the lead and their contact info will not be documented in your account.
Ways we receive leads on your home:
Realtors often call us for showing instructions because:
a) they fail to read the Special Remarks in the MLS that instruct them to call the seller directly,
b) they assume it's a full service listing like most others in the MLS and automatically call the Broker of record,
c) they don't reach the seller on the first attempt,
d) they don't trust that the seller is in charge and call Broker to confirm.

Buyers may make contact via phone from third party websites that do not allow seller contact info to be listed.
Buyers may submit email inquiries through third party sites (inquiries go to the broker of record by default).
How we handle these leads:
Phone Calls from buyers and Realtors are documented in seller's account in "Leads & Showing Requests" section (name, phone # & email are requested). Note that not all callers will reveal email addresses but we do our best to retrieve it.

We direct the party to call the seller directly and provide the phone number(s).



Showing Requests from buyers are submitted through the GetMoreOffers showing request portal. GetMoreOffers will notify the seller of request via phone & email of the desired date/time and all info available about who is making the request.

Showing instructions are given. (This may be as simple as: "owner occupied/call for appointment...Seller's name is John Doe, contact number is XXX-XXX-XXXX." If the property is vacant on lockbox, we will provide the lockbox code, gather info on date/time of showing and input into the "Leads & Showing Requests" section of seller's account)



Email Requests from buyers made through third party sites will be transcribed into the "Leads & Showing Requests" section of seller account and GetMoreOffers emails sellers in real time that a new lead has been entered.
How other companies may handle your buyer leads:
(According to sellers who tried another company before moving their listing to the reliable flat fee MLS service of GetMoreOffers):
They fail to pass them along to you at all or for several days because they do not the have staff resources to do so.
They fail to pass them along to you because they sell your leads or keep for their own agents.
How our system works: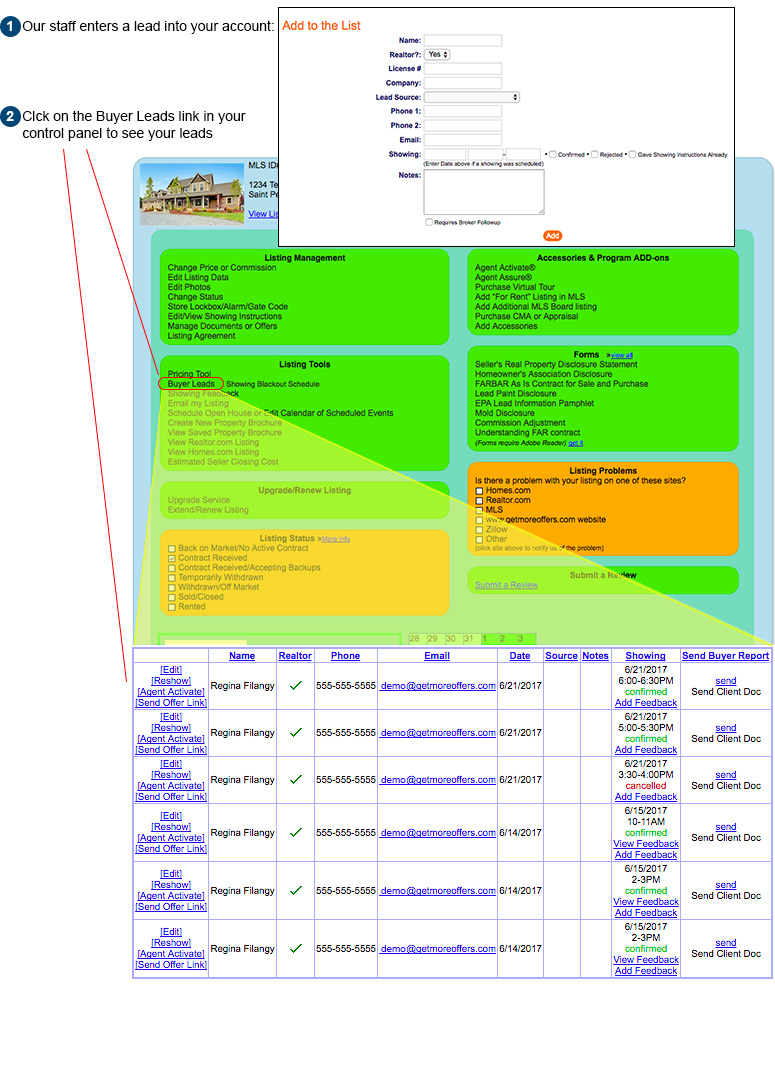 | | |
| --- | --- |
| Signup Assistance | More Info |
MARKETING
| | |
| --- | --- |
| | More Info |
| | |
| --- | --- |
| | More Info |
| | |
| --- | --- |
| | More Info |
| | |
| --- | --- |
| | More Info |
| | |
| --- | --- |
| | More Info |
| | |
| --- | --- |
| Custom Property Brochure | More Info |
| | |
| --- | --- |
| Custom Property Website | More Info |
GetMoreOffers.com LISTING
| | |
| --- | --- |
| | More Info |
| | |
| --- | --- |
| Agent Activate® | More Info |
| | |
| --- | --- |
| Document Portal | More Info |
| | |
| --- | --- |
| Get More Showings - Agent Showing Request Portal | More Info |
| | |
| --- | --- |
| Open House Scheduling | More Info |
| | |
| --- | --- |
| For Sale Sign | More Info |
BROKER SERVICES
| | |
| --- | --- |
| Comparative Market Analysis (CMA) | More Info |
| | |
| --- | --- |
| Expert List Price Guidance by Veteran Broker | More Info |
| | |
| --- | --- |
| Pre-Listing Consultation Advice With Broker | More Info |
Contract Management
More Info

Contract Management

Your dedicated transaction coordination liaison will professionally handle:

Document Management

Seller's Disclosure
Lead Based Paint Disclosure/HOA disclosure if applicable
HOA/Condo Documents if applicable
NOTE: Sellers must provide copies of the association documents "governing documents."
Other applicable disclosures & addendums
Ensure all contract documents contain signatures & initials



Electronic Contract Creation

Once contract approved, input to Authentisign secure online document signing service for seller(s) electronic signature(s), followed by delivery to buyer's agent (or buyer if no BA involved).
Updates and addendums after inspection



Buyer's Agent Communications

Delivery of requested disclosures
Title company info and contacts
Scheduling



Status Updates (on GetMoreOffers and MLS)


Title & Closing Coordination

Communication and delivery of all documents
Retrieval & Review of Preliminary Closing Statement (confirm accuracy of purchase price, escrow amount and commissions (all other fees should be gone over with parties by the closing agent)
Confirm closing is complete/funded/request copy of fully executed closing statement



Appointment/Scheduling Coordination

Inspections
Appraiser request for access
Re-inspection if applicable
Closing
Final walk-through



Contract to Close Timeline Compliance:

Effective Date
EMD due
Inspection Period Ends
2nd EMD due (if applicable)
Loan Commitment Due
Final Walk Through Scheduled
Closing

*no broker opinion or advice on offers/contracts, factual advice only (except with Platinum professional representation plan)

NOTE: Inspection repair requests and other negotiations must be handled by Seller. Transaction Coordinator is not licensed to provide advice or opinions.
Professional Representation
More Info

Professional Representation

With over 35 years of experience in the real estate industry and a team of real estate experts to assist you, there are few companies with more experience in negotiating contracts than ADDvantage Real Estate.  The team works to get you top dollar for your home and works to put you in a position of power in the negotiations process.  With nearly ¾ billion dollars in closed transactions and over 3,000 homes sold in the past decade, the sale of your property could not be in better hands.
| | |
| --- | --- |
| Representation | More Info |
| | |
| --- | --- |
| Listing Agreement | More Info |
* Available With An Additional Charge
Discount Full Service real estate listing without compromising service
Some sellers want the traditional services of a knowledgeable and experienced real estate agent but want it at a discount price. Most full service agents charge a 6% commission, regardless of the transaction. A more fair arrangement is to adjust the commission amount according to how the buyer is procured.
We don't believe you should have to sacrifice service to get a fair deal. Our full service program offers sellers comprehensive marketing plus the excellent negotiation and closing skills of our top agents, all for a discount full service MLS listing price.
Other Options...
For Sale By Owner Listing - Get your listing exposure but without going into the MLS. We have two FSBO programs to accommodate you.
Flat Fee MLS Listing - You are totally self-represented
©2006-2020 GetMoreOffers.com Real Estate