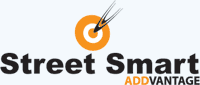 Flat fee MLS sellers offer Real Estate (Buyer's) Agents a higher than typical commission to find them a buyer.

ADDvantage sends an E-Blast every two weeks to

Realtors®

and Brokers within a 35 mile radius of your flat fee MLS listed property. Our proprietary list of agents and brokers is extensive. We report the success of each email campaign to the flat fee MLS seller by email. Street Smart ADDvantage® specifically markets your property to other brokers in your area to make sure agents know about your higher commissioned property, thus generating more

Realtor®

showings. It's like having a NEON sign on your property.

»

How we market

Sellers, as a result, could receive more numerous and higher offers and ultimately NET MORE PROFIT on the sale.

The table below represents what has been adopted for decades as the norm for commissions when selling a home through a real estate agent.
Street Smart ADDvantage® High Commission Properties

recommends that you set the buyer's agent commission higher than 3%. By increasing the commission paid to the buyer's agent, you entice them to work their buyer to a higher price. At the same time, you potentially get a higher profit from the sale than if you had just offered a buyer's agent commission of 3%. See the table below.

| | | |
| --- | --- | --- |
| $200,000 | 3% / 3% | $191,760 |
| $204,000 | (Program not currently available) / 4% | $195,841 |
| $208,000 | (Program not currently available) / 5% | $197,601 |
| $212,000 | (Program not currently available) / 6% | $199,281 |
| Sales Price | Street Smart ADDvantage® Fee | Co-Broke Percent | Buying Agent Gets | Seller's Net |
| --- | --- | --- | --- | --- |
| $200,000 | Not Available | 4.0% | $8,000 | $192,001 |
| $201,200 | Not Available | 4.5% | $9,054 | $192,147 |
| $202,400 | Not Available | 5.0% | $10,120 | $192,281 |
| $203,600 | Not Available | 5.5% | $11,198 | $192,403 |
| $204,800 | Not Available | 6.0% | $12,288 | $192,513 |
| $206,200 | Not Available | 6.5% | $13,403 | $192,798 |
| $207,600 | Not Available | 7.0% | $14,532 | $193,069 |
| $209,000 | Not Available | 7.5% | $15,675 | $193,326 |
| $210,400 | Not Available | 8.0% | $16,832 | $193,569 |
| $211,800 | Not Available | 8.5% | $18,003 | $193,798 |
| $213,200 | Not Available | 9.0% | $19,188 | $194,013 |
| $214,600 | Not Available | 9.5% | $20,387 | $194,214 |
| $216,000 | Not Available | 10.0% | $21,600 | $194,401 |
©2006-2019 GetMoreOffers.com Real Estate