Q&A for the ADDvantage® Real Estate Network (AREN)
Terms:
We are the ADDvantage® Real Estate Network™ or "AREN"
You would be the "Network Owner" or "Licensee"
About AREN
Q: How long has AREN been in business?
A: AREN was established in 2007
Q: Who designed the software for AREN?
A: It was designed by Erin Knorr, who co-owns the Florida flat fee MLS listing company, ADDvantage® Real Estate Services, based in Tampa bay.
Q: Is AREN a franchise or a license?
A: AREN is offering licenses throughout the US and Canada.
Q: What is a network owner?
A: A network owner is a licensee who has rights to use the AREN website platform and software.
Q: Can a network owner be an agent or a broker?
A: A network owner must be licensed to sell real estate in their state. If they are a sales associate or agent, permission may be required by the broker.
Q: Can a broker have agents under them with their own networks?
A: Yes. The fees are less and the agent can have their own unique URL or have just a username and password to access the system.
Territory Rights
Q: Do network owners have rights to a certain area?
A: There are 2 levels as an AREN Network Owner:
Exclusive Website License Exclusive Websites are branded with our distinctive logos of MLS ADDvantage®, ADDvantage Professional™, Street Smart ADDvantage® and ADDvantage PLUS™. "Orders" that come through AREN's website (including landing pages) and not through the Network Owner unique URL would go to that Exclusive Network Owner. There is a $150 transaction fee taken by AREN per sale/order. Network owners "claim" an exclusive territory defined by zip codes. We will not offer this defined area to any other network owner.
Un-Branded Website License . We do not restrict how many un-branded licensees can use our network within an area. At this level, we are a MLS listing management and flat fee MLS e-commerce platform designed for network owners to do flat fee business more proficiently using our state-of-the-art MLS listing software. You would upload YOUR logos. With un-branded sites, you create your own image.
Note: Web traffic generated through Network Owner's web pages belong exclusively to the network owner. All network owners have their own unique website such as sample.getmoreoffers.com. The system tracks where the sale originated from.
Note: Once you register for a network, our network owner license agreement will be sent to you for your review.
Exclusive Leads
Q: How does the AREN website keep track of visitors to my site?
A: Each network owner has a unique URL such as sample.getmoreoffers.com. When promoting your site, as long as the site visitor hits your unique URL, then that visitor is "cookied" by our server as your lead. If they signup, that listing will appear under your "network control panel".
Q: Can I re-direct my current website to my new AREN site?
A: Yes.
Q: Is there any other way to ensure a prospect is logged as mine or my individual agents'?
A: Yes. You can enter any lead under what is called "add new leads" section of your network control panel. Once that prospect's information is stored, that lead belongs to the network owner that inputs that lead into the system first.
Q: Can I promote my website with a "promo coupon".
A: Yes. This is another way to identify a prospect but obviously if they visit your unique URL then this prospect is already tagged as yours.
Security and Lawsuits
Q: Lawsuits are prevalent these days. Realtors® should keep a copy of all logs, notes, and emails. Does the AREN store a copy of all events?
A: Yes. Network owners should always send emails from the seller's account in the AREN system. This way they are stored under "email history". All changes to listing are recorded in the account as well.
RSS Feeds
Q: What is an RSS feed?
A: RSS stands for "Real Simple Syndication". As a network owner, most of the sites below will carry your listings. Once you input a listing into AREN's system, your listings will be sent around the Internet daily through our automatic RSS feeds.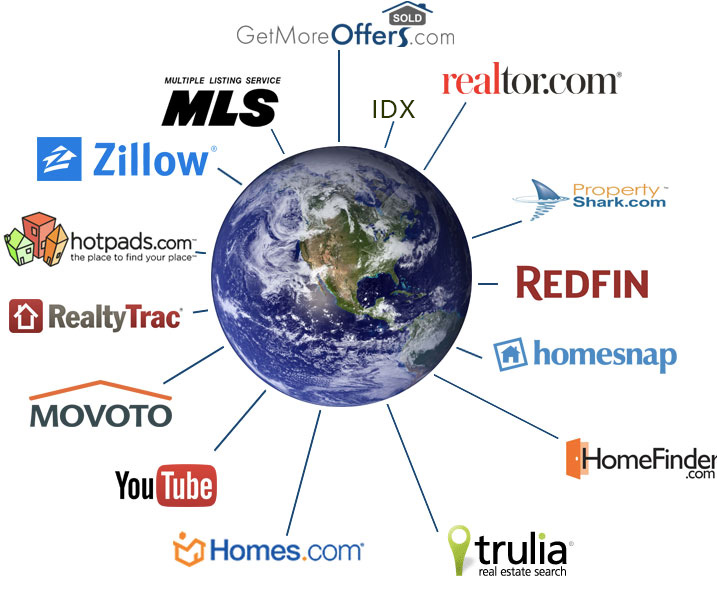 Realtor.com (over 3.1 million monthly visitors)
Homes.com (over 1.6 million monthly visitors)
Zillow.com (over 1.9 million monthly visitors)
Trulia.com (over 2.2 million monthly visitors)
Yahoo Real Estate (over 1.9 million monthly visitors)
HarmonHomes.com (over 500,000 monthly visitors)
Google Merchant Center
Oodle.com (over 1.5 million monthly visitors)
Vast.com (over 1 million monthly visitors)
Propbot.com
HotPads.com (over 300,000 monthly visitors)
Move.com
MSN Real Estate
HGTV FrontDoor
Plus 100's of other MLS listing sites and local

Realtor®

sites
About Street Smart ADDvantage® Realtor® E-Blast
Q: What is the Street Smart ADDvantage® Realtor® E-Blast?
A: Since 2005, AREN has sent millions of emails to Realtors® throughout the Florida market with the subject line of the email "Street Smart High Co-Broke Listings Near You." Properties that are listed in the Street Smart ADDvantage® Realtor® E-Blast are only 4% or greater "buyer's agent commissions. Street Smart ADDvantage® Realtor® E-Blast enjoys a 14% readership.
Q: Does the AREN website track Street Smart ADDvantage® Realtor® E-Blast email click-throughs?
A: Yes. Under "property view history".
Q: Do you manage the Street Smart ADDvantage® Realtor® E-Blast?
A: Yes.
Q: How often does it go out and to whom?
A: Street Smart ADDvantage® Realtor® E-Blast is sent twice per month. Our system uses a 35 mile radius system from the subject property as a "Realtor® inclusion zone".
Q: If I have my own list of Realtor® email addresses can I merge them with your database of Realtors®?
A: Yes. Call for instructions about formatting. (727) 942-2929.
Q: Can I get a property E-Blasted outside the 35 mile radius?
A: Yes. AREN charges $100 for a special zip code inclusion. This means that zip code will be added to the subject property for the life of the listing.
Q: Will my full service client's listing be included in the Street Smart ADDvantage® Realtor® E-Blast?
A: If the seller is offering a 4% buyer's agent commission…YES! A free perk of being an AREN network owner.
Listings
Q: If I have existing flat fee clients, can I input these listings into your system?
A: Yes. Just go to your control panel and click "add listing".
Q: Is there an extra charge?
A: See rate schedule below
Q: What about full-service clients. Will the AREN software manage these listing too?
A: Yes. Unlike a flat fee listing, full-service clients have limited control of listing edits. The network owner controls what these clients can control and see in their accounts.
Q: Do my full-service clients use my unique URL such as sample.getmoreoffers.com?
A: No. It would be better to send them to editmylisting.com. There they can login and edit.
Data Forms
Q: Florida has inter-coastal waterways, Montana has mountain views and New York has basements…How can one property data form meet the needs of my customers?
A: They can't. So our data form is 100% editable. Add, delete and modify.
Blogs
Q: I see blogs written by Keith Gordon and Erin Knorr from the Florida Network. Can I write my own?
A: Of course! Our blogs are placeholders until you write your own. The system allows you to either rotate the blogs by "date" or you can fix a blog so it doesn't rotate for special messages or additional services. Only 3 blogs show on the home page and they move into blog archives.
Listing Programs
Q: Can I remove 1 of the 4 programs?
A: No. But you can change program features to create your own unique programs.
Q: Which flat fee mls listing program sells the best?
A: AREN's Florida network owner sells the MLS ADDvantage® Not Available program the most, then ADDvantage PLUS™ at Not Available plus Not Available ($3,000 max) at close, followed by Street Smart ADDvantage® Realtor® E-Blast at Not Available and lastly, ADDvantage WORKS™.
99% Control
Q: Is there anything about the website that I can't control?
A: The only thing not programmable using our "network configuration tools" would be the program names.
Yard Signs
Q: What about yard signs? Can I use my own?
A: Yes. Just upload your art and it will replace the "default" sign which is AREN's.
Q: Can I use the AREN yard signs?
A: Yes. Your license agreement allows network owners to use all AREN branded logos, signs, etc. You can print your own or order them through AREN.
Listing Agreements
Q: Can I use my own listing agreements?
A: Yes. Just upload the document for each program.
Q: Can I use AREN's listing agreement?
A: Yes. The system will change the brokerage name automatically.
Documents
Q: What about forms such as seller's disclosures, contracts and other forms?
A: Our system allows you to upload your propriety, local or state forms, contracts and disclosures by creating categories for each. Our system is easy to use so your agents, clients and even the "general public" will have all the forms they need.
Q: Does AREN software allow our clients to upload documents?
A: Yes. They can mark them "public" for documents such as "seller's disclosures" and "surveys" or "private" for other non-public ones such as HUD1.
Q: Does the AREN system allow the network owner to send documents from the seller's control panel by email?
A: Yes.
Auto-Responders
Q: Is the AREN system capable of sending auto-responders (emails) to clients?
A: Yes. It has over 50 ready-to-go emails all configured to be sent on a timed event or triggered by a certain action on the part of the user/client. Each auto-responder is 100% editable.
Merchant Accounts (the money)
Q: Can I set up my own merchant account?
A: Yes. All you need is a Bank of America Merchant Account and a Cyber Source account. AREN charges $125 as a setup fee.
Q: What if I prefer to have AREN collect the funds from transactions and forward me the money?
A: That is OK as well. Twice per moth, AREN will send each network owner a check less 3% as a transaction fee.
Broker-Agent questions
Q: What if my broker becomes a network owner and I, as an agent, want my own network?
A: Simple. The fee structure (see table below) is $24.99 month and $79 for your unique URL.
Website Themes or Concepts
Q: My state requires "contract representation". Certain terms and typical flat fee concepts may not work for me? What then?
A: Flat fee brokers do business a little differently from state to state and everyone has a slightly different business model. AREN allows each network owner to create a theme or "network concept". The table below shows some of the "on" and "off" features.
FSBO
Leads Belong To Seller
Buyer Rebates
Cancel Anytime
Publicly Show Seller Contact Info
If a network owner turns off "FSBO" this will remove the term from programs and some of the content. The purpose of this feature is to comply with some state laws that require all transactions to be represented by an agent.
If a network owner turns off "leads belong to seller" this will remove the seller's contact information from the publicly viewable areas of the site and replace with the agent assigned to that listing.
If a network owner turns off "buyer rebates" this will remove that program from the site as some states rules prohibit buyer rebates and some network owners prefer not to engage this business practice.
If a network owner turns off "cancel anytime" this will remove the term all programs and website content. Some network owners may use Exclusive Right of Sale listing agreements and other language in the listing agreements that would conflict with this statement.
If a network owner turns off "publicly show seller contact info" this will remove the backend functions that populate he seller's contact information from being propagated.
Q: How would I customize the AREN flat fee MLS listing plans to fit my needs?
A: AREN has configuration tools including the one below. Simply check the features that you would like to offer in each one of our 4 flat fee MLS plans…it's that simple.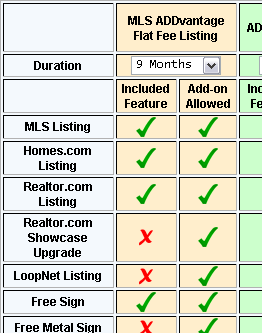 Website Tabs and other Features
Q: What does a network owner site look like?
A: Visit one of our new network owners in Missouri. You can have a site like this in just a few days.
Q: On the home page, what is the "featured property" tab?
A: Only listings that are entered into the system as an ADDvantage PLUS™, ADDvantage WORKS™, or Street Smart ADDvantage® High Commission Properties listing will be rotated in this section.
Q: What can I do with the "Hot deals" tab at the top of the home page?
A: Link any image and write a description for any property you wish. You might consider offering clients placement in the "hot deals" for a fee.
IDX
Q: Will I have my own IDX feed?
A: Yes. See sample of Florida and Missouri. IDX feeds are different depending on the state. Simply request IDX third party permission from your local MLS board and upload to your account or fax to 866-420-8957.
Handling
Realtor®

calls for Showing Instructions

Q: How does this system handle Realtor® requests for showing instructions?

A: In the "admin control panel" use the Client Lookup to locate the listing by address, MLS number or client name. Once you arrive at the seller's control panel, click "buyer leads," enter the Realtor® or un-represented buyer's data and submit. Based on your setting in our system, an email will be sent to the seller (or an agent of yours) informing them of a showing request; if the lead was an un-represented buyer, this lead may be sent to an agent, the seller, or the broker.

Q: Does the system store lock box codes and showing instructions?

A: Yes. These are all 100% editable on the fly.
Agent Activate®
Q: What is Agent Activate®?
A: Some network owners pass all buyer leads to the seller. Others do not. If you are a network owner that does send all buyer leads to the seller as "default" then Agent Activate® is a program which allows the seller to turn these back to the listing broker (network owner). The seller voluntarily turns "Agent Activate®" status to "on". In essence, this feature gives the network owner an opportunity to show the property and earn the offered commission.
State Laws and Disclosure
Q: Do I need to file a d.b.a. with the state regulatory agency for the use of ADDvantage® name or logos?
A: The ADDvantage® Real Estate Network is not a license real estate company but rather a web-based real estate listing and e-commerce platform. It is always a good idea to perform due diligence and call your state legal hotline to ask them about any concerns you may have.
Q: Do I need a statement or disclosure on each webpage that identifies this website as belonging to a licensed real estate brokerage?
A: It would depend on the state as some states do require this. AREN websites have this disclosure at the bottom of all web pages "(NO license name), (city), (state)…licensed real estate brokerage in (State).
Offers, Contracts and Closing
Q: Does AREN software handle contracts and offers?
A: Yes. Rather magnificently! Just upload the offer, name it and identify from whom the "document" is from (seller, buyer, other). The system will ask questions that enable tracking.
Q: What happens once we have an accepted deal or executed contract?
A: First, change the status from "offer" to "contract". The system will send any party to the contract a copy as well as any new parties such as a title company.
Q: What about after the contract…Does the system track the deal to closing?
A: Yes. It takes the prior data that you have already entered into the system about the contract and asks a few more questions. Then it sends reminders by email and flags the network owner when action is required.
Q: What about the new laws regarding escrow deposit verification?
A: The system tracks all deposits to ensure the seller receives deposit verification.
Handling Referrals
Q: Will the system track referrals?
A: Yes. Just enter the name of the prospect, the agent receiving the referral and the referring agent's broker. The system sends a referral agreement to all parties and tracks the referred client by sending a series of status emails to the referred party.
SEO
Q: What is SEO?
A: Search Engine Optimization…Creating websites and content that are search engine friendly.
Q: What is the difference between "organic" search results and "pay per click (PPC)"?
A: When internet surfers go to a search engine and put in certain terms, the search engine will display results that match with the term based on relevance. Two types of links make up those results. Organic links are the "natural" results that each search engine deems most relevant to a search query. PPC is and ad that has been paid for by the company doing the advertising. PPC ads are displayed before or along with the organic results and is typically marked as "sponsored ad" or something similar. PPC is known as "adwords" on google. PPC "clicks" cost the advertiser anywhere from $0.50-$10.00 per click.
Q: Will my network get organic from search engines?
A: Yes…Just as long as you write unique content and blogs for your new AREN network. Our system is designed for maximum organic.
Q: How long will it take for my flat fee MLS network to be indexed by google?
A: 30 days plus or minus.
Q: What can I, as a network owner, do to get indexed faster?
A: Set up accounts at digg.com, blogger.com, wordpress.com and blogalog.
Q: On average, where can I expect to be ranked on google and other search engines?
A: Our new network owner in Springfield, Mo hit page one on google for "flat fee mls Springfield" and "Springfield flat fee mls" in just 25 days.
Other
Q: Photos. We need jpeg photos for MLS. Once a client uploads photos, how can I get them into jpeg format?
A: In the control panel for the property, you will see this view below. Click on the MLS Photo 2 >> (top Right)…Then right click on the images and save to your drive. Then upload to MLS. [X]Our Site Photo [X]MLS [X]MLS Photo » [X]Homes.com [X]Homes.com Photo » [X]Listing Agreement [X]Showcase [X]Showcase Photo [X]WorldProperties Agent Report Verified New [X]Mail Sent - Resend» [X]Listing Paid
Q: How do clients send their seller's disclosures and other documents that I need back from them?
A: The best method would be for them to scan their docs and upload them into their account "manage documents". Or, have them fax them to you, scan and upload into their account.
Q: Realtor electronic lockbox. How do I make them available to sellers?
A: In your "Network Configuration" mark Supra "yes".
Q: Notes. I tried to click on notes, to make a note to client. It says "no notes available". How do you post note?
A: Notes are for internal use. Things that need to be "noted" in an account are stored in "notes". Requesting a document from a seller would be accomplished through: (a) top right icon tool bar in seller's admin control panel, select "email"…then send them one; (b) Or, top right icon tool bar in seller's admin control panel, select "auto-responders" and use a "canned" response if applicable. All email communications are stored in the seller's account at the very bottom of "all client info".
Q: Can sellers enter a promo code or sales person name. Where would that occur?
A: In step 2 of the sign up process, one the first fields is "sales person/prom code".
Q: Can my sellers use the Street Smart ADDvantage® Realtor® E-Blast and offer a 3% or 3.5% buyer's agent commission?
A: No, the Street Smart ADDvantage® Realtor® E-Blast is reserved for those seller's offering a 4% or greater buyer's agent commission. The Street Smart ADDvantage® Realtor® E-Blast is Florida's number one read Realtor to Realtor email for this reason. The seller would: (a) have to purchase the Street Smart ADDvantage® listing package (and, of course offer a 4% or greater buyer's agent commission; (b) be a "full-service" client and offer a 4% or greater buyer's agent commission.
©2006-2019 GetMoreOffers.com Real Estate