Protecting Your Leads
GetMoreOffers.com's authorized Brokers forward all buyer leads that come directly to them to our sellers by email in real time, 7 days a week. Unlike many flat fee MLS services, we have chosen a business practice that does not seize your buyer leads from any marketing sources.
Why would a flat fee MLS service take the flat fee MLS seller's buyer leads for themselves, you might ask? Because the flat fee MLS industry is turning into a "buyer lead farming" business. Buyer leads are a valuable commodity. This practice can benefit the flat fee MLS company in the following ways: (a) leads can be given to a full service REALTOR® in exchange for a referral commission worth roughly 25%; (b) the MLS company itself can take the buyer lead for their own agents and attempt to sell the flat fee MLS listed seller's property themselves and earn the offered buyer's agent commission; (c) the flat fee MLS company could give the buyer lead to an affiliated mortgage brokerage division to pre-qualify the lead and then refer the lead to a full-service real estate brokerage firm.
Realtor.com was not created by NAR for self-represented (FSBO) flat fee MLS sellers; it was created for REALTORS® to get buyer leads. And over the last decade, Realtor.com has changed a lot in terms of how they monetize, one key component being that they sell zip codes to agents to purchase those leads. The same is true for many other third party sites such as Zillow.com. However, leads that come in through other marketing sources such as email inquiries from Homes.com or our own GetMoreOffers.com site or phone calls directly to our company, will always be immediately logged in your account. This in turn generates and email from the system letting you know someone has contacted us. These leads are stored in your Account so that you can view them at any time as well. (See Below)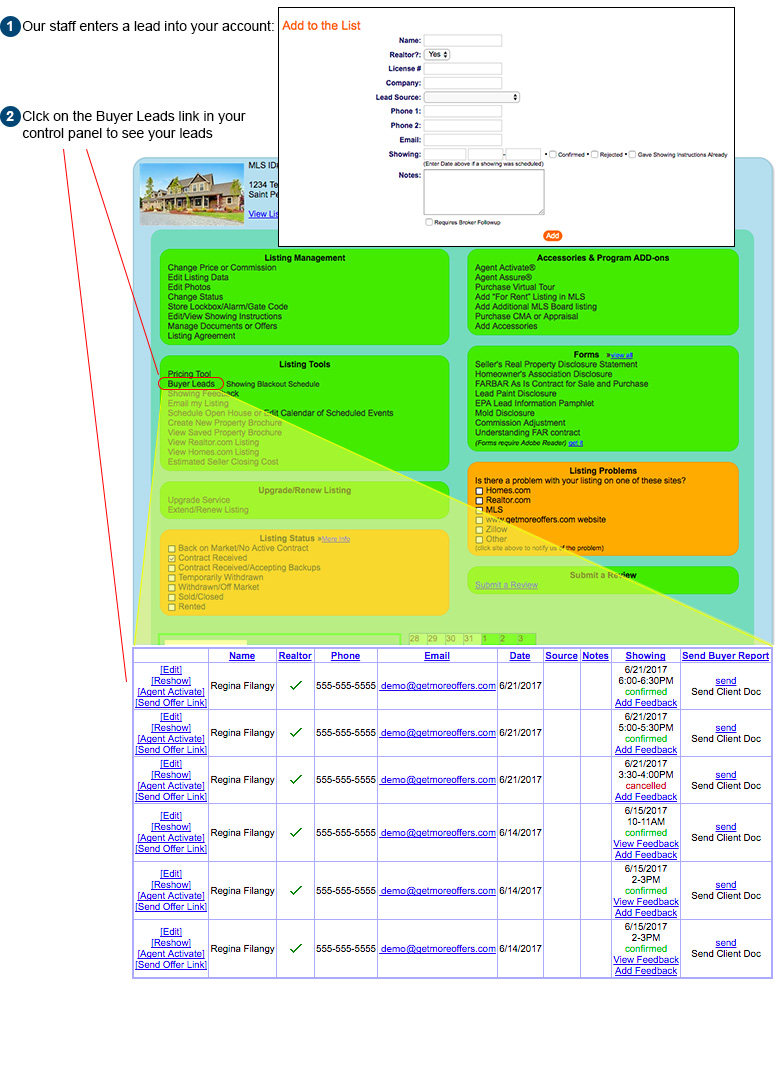 ©2006-2019 GetMoreOffers.com Real Estate