Protecting Your Leads
ADDvantage™ forwards all buyer leads from Realtor.com to the flat fee MLS listed seller by email in real time, 7 days a week. Unlike many flat fee MLS services, ADDvantage™ has chosen a business practice that does not seize your buyer leads from Realtor.com and other websites. Why would a flat fee MLS service take the flat fee MLS seller's buyer leads for themselves? Because the flat fee MLS industry is turning into a "buyer lead farming" business. Especially in a buyer's market, buyer leads are a valuable commodity. This practice can benefit the flat fee MLS company in the following ways: (a) leads can be given to a full service Realtor® in exchange for a referral commission worth roughly 25%; (b) the MLS company itself can take the buyer lead for their own agents and attempt to sell the flat fee MLS listed seller's property themselves and earn the offered buyer's agent commission; (c) the flat fee MLS company can give the buyer lead to their affiliated mortgage brokerage division to pre-qualify the lead and then refer the lead to a full-service real estate brokerage firm.
Realtor.com was not created by NAR for self-represented (FSBO) flat fee MLS sellers; it was created for Realtors® to get buyer leads. So they intentionally make it next to impossible to advertise for the "For Sale By Owner with MLS seller" directly. However, ADDvantage™ has gone the extra mile to get around the limitations of Realtor.com by implementing the following:
When someone views a listed property on Realtor.com in the detailed view, there is always a section to the right that contains the Listing Agent's company info. We have specifically written a program that makes it so that when someone clicks on the "Visit Agent's Website" link, the "header" on our website reads the incoming link and redirects it to the specific flat fee MLS listing (as seen in the detailed view on our site) by reading the property ID from Realtor.com. (See Below). This makes it possible for prospective buyers to access sellers' contact info directly.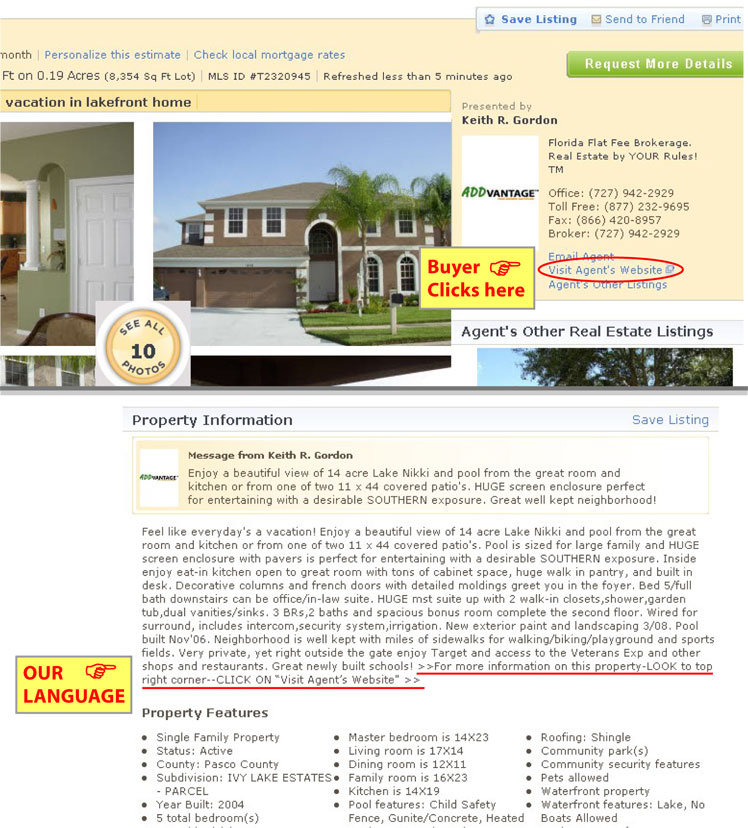 This feature is UNIQUE to our company. It requires the know-how of a skilled web developer to write this kind of program. Normally, when someone clicks the "Visit Agent's Website" link, you would be routed to the main website listed in the company profile (in our case www.getmoreoffers.com). But taking a buyer lead to our main home page would do our sellers no good. This is why we developed this tool. When you purchase the Realtor.com "SHOWCASE", we are able to go in and add the language (For more information on this property: LOOK to top right corner - CLICK ON Visit Agent's Website).
For those who choose not to upgrade to the SHOWCASE, rest assured that all buyer leads will still be routed directly to you, the seller. We have developed a lead referral system in the Admin side of our website so that we can enter in contact info for any leads that come to us instead of you. You can feel confident that not only are the calls being answered, that they are also documented and sent to you via email. These leads are stored in your Account so that you can view them at any time as well. (See Below)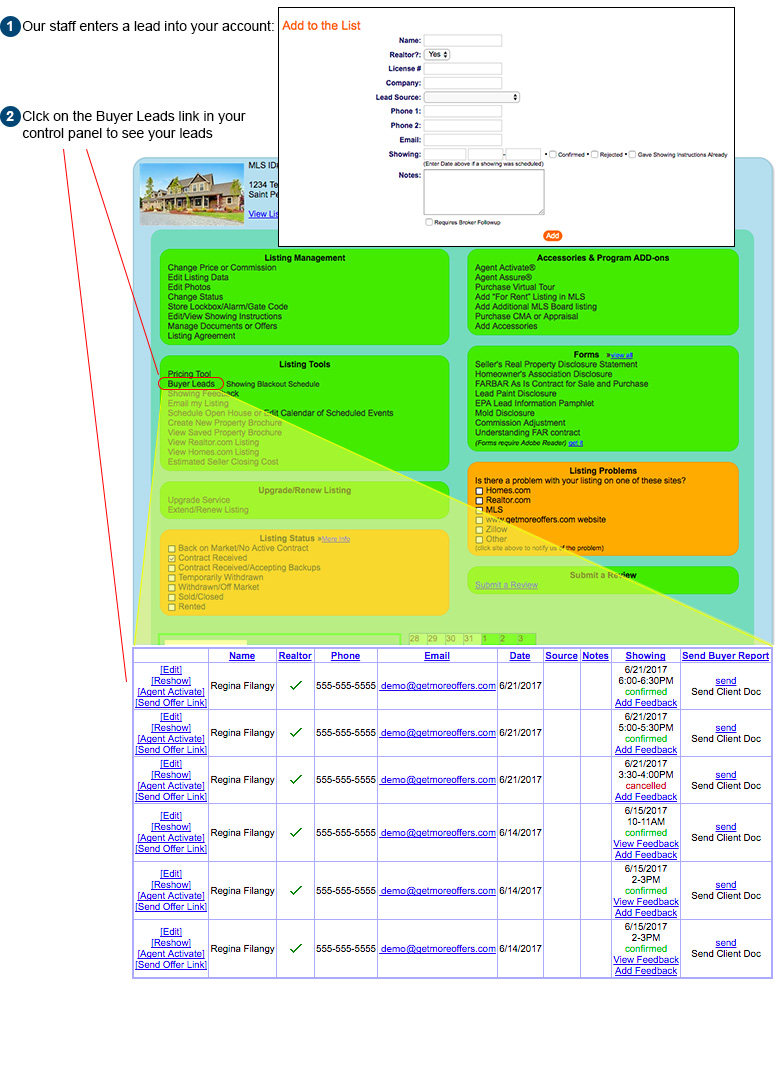 ©2006-2017 ADDvantage Real Estate