Instant Leads
Our Instant Leads feature is included in the Silver, Gold and Platinum programs. For sellers with the MLS Only or Rental MLS plan, agents and buyers who call or email will be given your contact info and directed to call you but the lead and their contact info will not be documented in your account.
Ways we receive leads on your home:
Realtors often call us for showing instructions because:
a) they fail to read the Special Remarks in the MLS that instruct them to call the seller directly,
b) they assume it's a full service listing like most others in the MLS and automatically call the Broker of record,
c) they don't reach the seller on the first attempt,
d) they don't trust that the seller is in charge and call Broker to confirm.

Buyers may make contact via phone from third party websites that do not allow seller contact info to be listed.
Buyers may submit email inquiries through third party sites (inquiries go to the broker of record by default).
How we handle these leads:
Phone Calls from buyers and Realtors are documented in seller's account in "Leads & Showing Requests" section (name, phone # & email are requested). Note that not all callers will reveal email addresses but we do our best to retrieve it.

We direct the party to call the seller directly and provide the phone number(s).

Showing Requests from buyers are submitted through the GetMoreOffers showing request portal. GetMoreOffers will notify the seller of request via phone & email of the desired date/time and all info available about who is making the request.

Showing instructions are given. (This may be as simple as: "owner occupied/call for appointment...Seller's name is John Doe, contact number is XXX-XXX-XXXX." If the property is vacant on lockbox, we will provide the lockbox code, gather info on date/time of showing and input into the "Leads & Showing Requests" section of seller's account)

Email Requests from buyers made through third party sites will be transcribed into the "Leads & Showing Requests" section of seller account and GetMoreOffers emails sellers in real time that a new lead has been entered.
How other companies may handle your buyer leads:
(According to sellers who tried another company before moving their listing to the reliable flat fee MLS service of GetMoreOffers):
They fail to pass them along to you at all or for several days because they do not the have staff resources to do so
They fail to pass them along to you because they sell your leads or keep for their own agents. Read More
How our system works: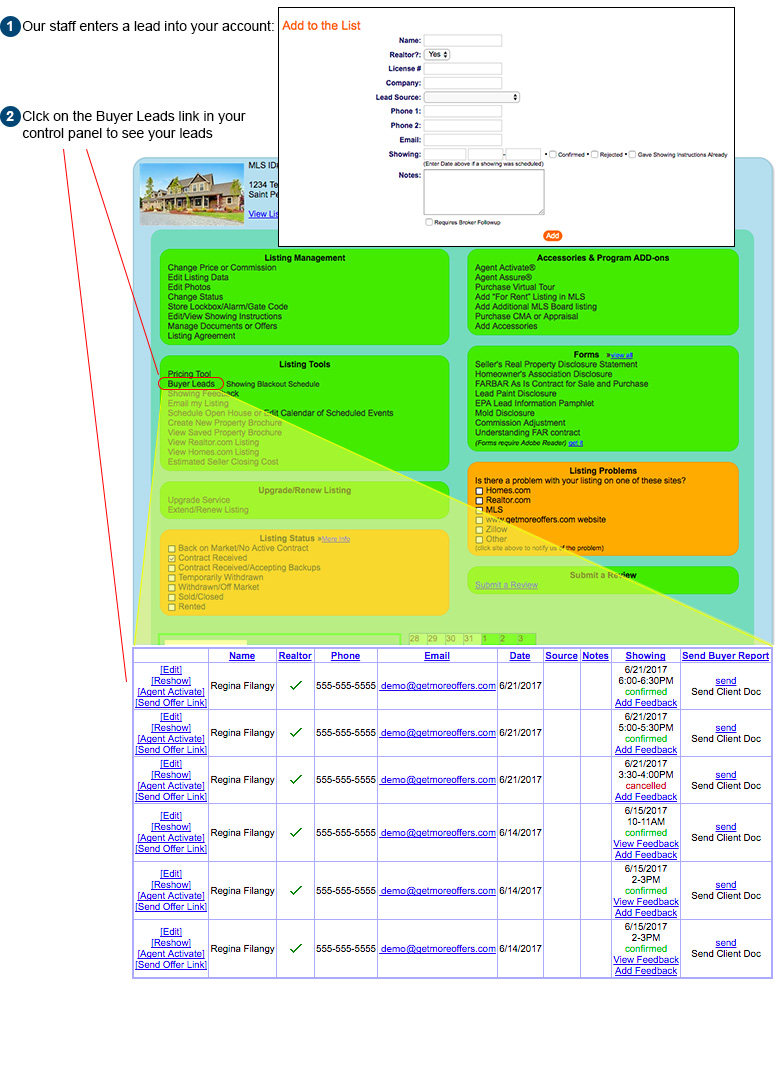 ©2006-2020 GetMoreOffers.com Real Estate