You'll have 3 websites and powerful MLS software to make your life better…
Buyers
Communicate all your thoughts to buyers and search IDX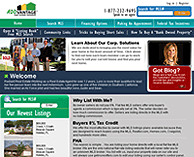 Sellers
Sellers can list 100% online, edit their listing and review offers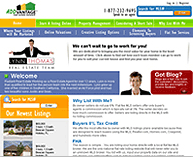 Short Sales
The trend will continue so embrace the business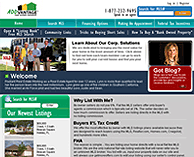 Buyers will have more confidence…
Search MLS through IDX
Blog ready
Search engine friendly
100% editable on-the-fly
RSS feeds for SEO
Newest Listings posted
Article Archive
Sellers can actually…
List their property online
Change their own price
Upload documents
Review offers
See website traffic statistics
Print brochures
Read your blogs
You can be on the vacation or on the other end of town while transacting with clients virtually.
Make your conversations with people turn into business opportunities. Our concept is to provide real estate agents and brokers with powerful and varied websites that directly reach out and communicate with buyers, sellers and hybrid sellers. More leads and less paperwork!
Whether you are an independent Realtor or a Broker, we have websites that are designed to meet the ever changing nature of real estate today. We offer websites, tools, products, IDX, software and services that help you get more listings, attract more buyers and build more confidence and trust with clients. We make you look like technology experts.
You don't have to be a geek or be rich to own the best real estate website and software!
Our story…Over the past five years we have been busy building the most comprehensive software to manage our real estate operations. Now you can license what we have built - Our URL is GetMoreOffers.com. Your URL could be anything you wish such a as NewYork.getmoremoffers.com. Our back-end listing management software is described below.
3 different websites that morph to the dynamic real estate market on the fly!
Website Themes
Software Features
Marketing
Fees/Commission
Our Reputation
ADDvantage® Real Estate Offers Multiple website themes

Buyers site
Name your site (your name.getmoreoffers.com), edit the content, IDX ready search, write a few blogs and send your buyer prospects
Sellers site
Name your site (your name.getmoreoffers.com), edit the content, IDX ready search, write a few blogs and send your seller prospects…They can even list their properties 100% online including listing agreement and short sales
Short Sale site
Name your site (your name.getmoreoffers.com), edit the content, IDX ready search, write a few blogs and send your short sale seller/buyer prospects
Optional Flat Fee MLS site
Name your site (cheapy.getmoreoffers.com), edit the content, IDX ready search, write a few blogs and send your flat fee sellers here…Our premier hybrid-flat fee MLS plan is $699 up-front and $599 at close. You get all buyer leads so if you can't close a full-service listing this may be your next best option. (see details)
ADDvantage real estate software is powerful

IDX ready sites
Our IDX pro system will get your listings seen…Of course, with your contact information
Online electronic signup
Sellers can sign up themselves on line at your "seller's website". They can electronically sign the listing agreement, upload pics, surveys and the seller's disclosure…All by themselves while you're at the beach
Offer system
This might be the most fun part of our system…It so easy to use even a Realtor® can do it!
Referral system
Refer a lead to another agent and our system will track the referral for you
Closing system
For those that want a little guidance through closing a home, our system will remind you of every step and even send the selling agent "deposit verifications".
Feed-back system
Our lead area stores all showings that you enter into the system. It stores these showing requests in the seller's account as well. Once entered, our system will send a "feed-back" email to each Realtor® the day after a showing requesting feedback which is automatically sent to the seller…Then, the seller can login into their account at your seller website and lower their price.
Master/broker Control Panel
Allows broker/agent to view all listing, add listings, pending changes and monitor flags
Seller Control Panel
Allows seller to lower price, add pictures, add and manage documents, view offers, view website activity and more
Import existing MLS listings
Fast…just type the MLS number
Picture Upload
Clients can upload their own pics
Document Upload
Seller's upload disclosures surveys etc
Flagging Account
Broker/agent can flag an account for later follow-up
Auto Emails
Saves time and better communication
Email tracking
Stores all out-going emails…never lose an email
Electronic signup
Online signup for savvy sellers
Online Listing Agreements
Saves time
MLS "email verification"
Send a copy of the MLS listing so clients can confirm accuracy…Our system confirm their acceptance
Auto-Responders
Pre-designed timed emails
Edit listing data
Sellers can edit their data online
Brochure template
Sellers can print brochures online
Website hit tracking
Sellers can view their website hits
Marketing

Street Smart ADDvantage® Realtor® Ebast
It's the best read Realtor-to-Realtor email in Florida. Sellers must offer a 4% or higher co-broke to get into the eblast. See sample of eblast
RSS Feeds
Realtor.com (over 3.1 million monthly visitors), Homes.com (over 1.6 million monthly visitors), Yahoo Real Estate (over 1.9 million monthly visitors), Trulia.com (over 2.2 million monthly visitors), HarmonHomes.com (over 500,000 monthly visitors), Google Merchant Center, Oodle.com (over 1.5 million monthly visitors), Vast.com (over 1 million monthly visitors), Zillow.com (over 1.9 million monthly visitors), Propbot.com, HotPads.com (over 300,000 monthly visitors), Move.com, MSN Real Estate, Plus 100's of other MLS listing sites and local Realtor® sites
Blogs
Blog way on all our sites with our easy to use editor…It's just like using "Word"…Get the word out that you list home in your neighborhood and have expertise!
Fees, Splits, General Website Features

Commissions
100%
Monthly fee
$99
Commissions
Paid at closing
Transaction fee
$350 per transaction…max per month $1,050
E&O
$95 per quarter
Extra charge
Group Health
available
Extra charge
Signs
Metal signs (no strands are $28 plus $12 shipping)…see sample
Extra charge
Our Reputation

Broker Support
8:00am-8:00pm 7 days
Software support
8:00am-8:00pm 7 days
Training
Weekly Training via "Go To Meeting"
Software
We have the best listing management software in the business
Websites
Our websites are known to work for you, not just sit there!
©2006-2019 GetMoreOffers.com Real Estate