For Sale By Owner Selling in Miami, Florida
Miami has not escaped the buyer's market that hit Florida in 2005. The pain continues as prices continue to be pressured from over expansion, short sale activity and bank owned properties.
The good news for Greater Miami Dade County property owners is the uniqueness of Miami real estate. Miami has some of the most interesting architecture in the world and this helps retain value.
Coral Gables, Key Biscayne, Brickell, Coconut Gove, South Miami, Pinecrest, Gables by the Sea, South Beach and other prime Miami locations still have international and domestic demand.
Selling For Sale By Owner, even if you have a gorgeous Atlantic oceanfront condo on South Beach, has its challenges. Aggressive Internet marketing and Realtor® participation is critical in today's market. For Sale By Owner websites have limited Internet marketing and negligible local marketing which is not advisable in the current market conditions.
Back in the seller's market of 1998-2004, any marketing would have worked…FSBO, MLS, flat fee, Buy Owner…it really didn't matter.
Now it does! Miami sellers have many FSBO marketing options today. By far, the most successful is FSBO with MLS or what is called "flat fee MLS".
Listing flat fee in Southeast Florida MLS is more popular with Miami homeowners than any other city in Florida. Miamians are more progressive and realize the many benefits that flat fee offers. Listing flat fee brings the biggest real estate sales force, the Realtors®, right to your marketing campaign without any real effort.
An ADDvantage flat fee MLS listing is (Program not currently available) and comes with 9 hour a day 7 day a week live phone support, 100% buyer lead forwarding and no cancellation fees or gimmicks. ADDvantage offers 3 progressive and effective flat fee programs such as Street Smart ADDvantage®, ADDvantage PLUS™, and MLS ADDvantage®.
Flat fee MLS offers sellers the same "pay no commission" benefits as For Sale By Owner…which is the right to sell yourself. But, listing FSBO with MLS also brings buyer leads from sources such as Realtor.com, Homes.com and other Internet websites. These buyer leads go right to the FSBO seller. If one of these buyer leads results in a sale, the Miami seller pays no commission…zip, zero, noda…just the flat fee paid upfront.
If a Realtor® ends up with the buyer, the flat fee MLS seller pays just that agent a commission which is typically 3%. The seller decides on exactly what percentage to offer the "buyer's agent" which is apart of flat fee listing agreement.
FSBO websites have limitations, lack of Internet marketing and are expensive. The first issue with For Sale By Owner websites is the cost. Some charge the equivalent of 50% of a real estate commission…as much as $5,000. This fee is paid upfront and there are no guarantees that your property will sell. In fact, listing on "Buy Owner" website is an ineffective approach in a buyer's market because buyers today, more than ever, trust Realtors® to seek our the best deals. Not a FSBO website.
The second drawback to going For Sale By Owner is sellers alienate the Realtors®. In Greater Miami there are over 30,000 Realtors® who are responsible of 85% of the sales. These Realtors® are working with buyers from relocations, out-of-towners, international clients and a host of other buyer sources. By offering these Realtors® just the "buyer's agent" side of the commission, the FSBO seller saves 50% of the cost. In most cases, the Realtor's® involvement will end up netting the seller more money.
As a side note, flat fee MLS sellers that use ADDvantage sell their own properties 30% of the time with no Realtor® involved. See ADDvantage sales statistics.
The third issue with FSBO websites is their limited Internet reach. Listing with a SEO (search engine optimization) friendly flat fee service will expose your listing to 100's of websites including the ones listed below: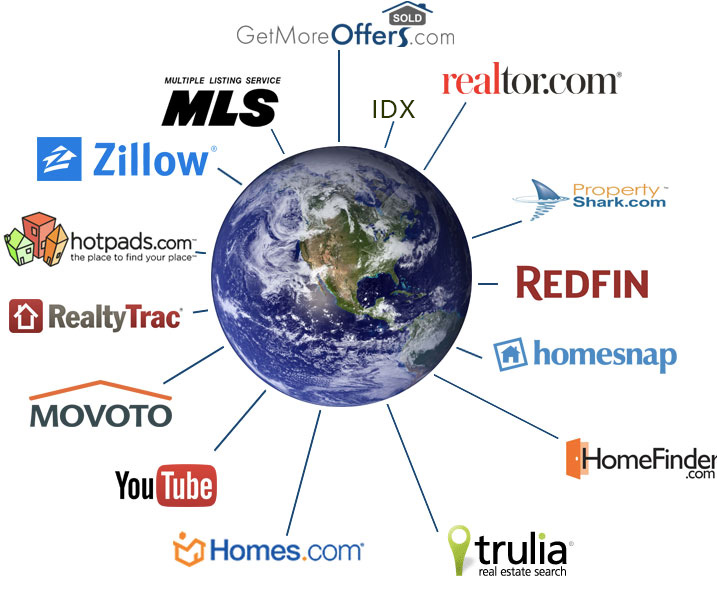 Realtor.com
Homes.com
Zillow.com
Trulia.com
Yahoo Real Estate
HarmonHomes.com
Google Merchant Center
Oodle.com
Vast.com
Propbot.com
HotPads.com
Move.com
MSN Real Estate
HGTV FrontDoor
Plus 100's of other MLS listing sites and local

Realtor®

sites
Call us anytime at 727-942-2929 or 1-877-232-9695 and we'll explain why ADDvantage is your best choice for listing flat fee in the MLS. Or, check out what ADDvantage clients have to say about listing flat fee MLS in Miami.
©2006-2019 GetMoreOffers.com Real Estate